Examination information for the module "Grundlagen der Bildungswissenschaft für Lehramtsstudierende" (06-Päd-GBW-LA)
In the teacher training program, the area of "General Pedagogy" is represented by two compulsory modules in the EWS area. On this page you will only find information on one of these modules, the module "Grundlagen der Bildungswissenschaft" for student teachers of the Chair of Systematic Educational Science.
Information on the second module can be found on the website of the Chair of Empirical Educational Research.
General information about the module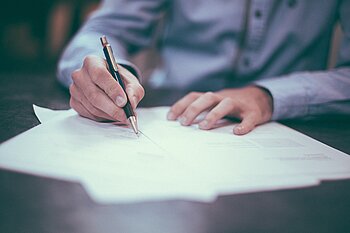 The module "Introduction to Educational Science for Student Teachers" (06-PÄD-GBW-LA) can be found in the course catalog under Courses for Student Teachers > Educational Science > General Education.
Lecture-accompanying literature: Dörpinghaus, A./ Uphoff, I. (42015): Grundbegriffe der Pädagogik. Darmstadt: WBG.
Form of examination: Written exam

Type of evaluation: Numerical grading

Registration for lecture and examination: Required. The number of seats is limited. Late registrations and cancellations for the lecture and the examination cannot be considered!

Frequency of examinations: usually every semester
Please note: It is imperative that you complete the module at least one semester prior to the scheduled exam period.
Information on the module examination in SoSe 22
Date of the examination: The examination for the lecture "Fundamentals of Educational Science for Student Teachers" (06-Päd-GBW-LA) in SoSe 2022 will take place on Friday, 22.07.2022, from 15:30 - 16:30 as a presence examination. The next examination date will take place in WiSe 2022/2023.
Location of the exam: The exam will be written at the specified time in lecture halls 1,2 and 4 of the Central Lecture Hall and Seminar Building (Z6), as well as lecture halls 1 and 2 in the Philosophy Building. After the registration period, you can find out in which lecture hall your exam will take place from a list that will be made available to you here as a PDF file.
Registration period: 01.06.2022 – 30.06.2022
Late registrations for exams cannot be considered.

Procedure of the examination: General information on the procedure of presence examinations can also be found under the link to the examination office. All further information on the procedure can be found a few weeks before the exam in a video available here.