Certificate "Education, Ecology and Sustainability" (BOeN)
Current Note: Certificate of Attendance and Covid-19
For online events, either a digital signature in PDF or an email from the lecturer confirming participation in addition to the analog signature will be accepted as confirmation of participation. For online lectures it is best to let the lecturer know in advance that you would like to have your participation confirmed for the BOeN certificate.
What is the Education, Ecology and Sustainability Certificate?
The goal of the certificate is to develop a responsible and informed attitude towards topics of ecology and sustainability. The focus is on being able to study freely according to one's own interests. The certificate offering therefore includes numerous choices for individual design.

Many of the courses here are not an "extra" effort, but are creditable within the degree program. These include, for example, some courses in the regular pedagogy program, selected events from the ASQ area, an internship in the subject area of education and sustainability, and a final thesis with a clear thematic reference.
Why is the certificate content relevant?
By now, we all know about the ecological-existential problems of our time (climate change, plastic waste, scarcity of resources, air pollution, etc.). Technological solutions and political decisions are simply no longer sufficient to ensure a sustainable livelihood. An awareness of ecological interrelationships is therefore becoming increasingly important for shaping one's own environment and society.
How is the certificate structured?
The certificate program is made up of four areas. The environmental education basics provide basic knowledge and create an overview of the subject area. Interdisciplinary knowledge allows one to look beyond the pedagogical horizon. In the practical engagement in society, theory-based knowledge is applied in concrete activities. In addition, a joint networking meeting (date for 2020 to be announced) with excursions to actors of sustainable development, which can be credited to the certificate, offers an exchange platform for all certificate participants.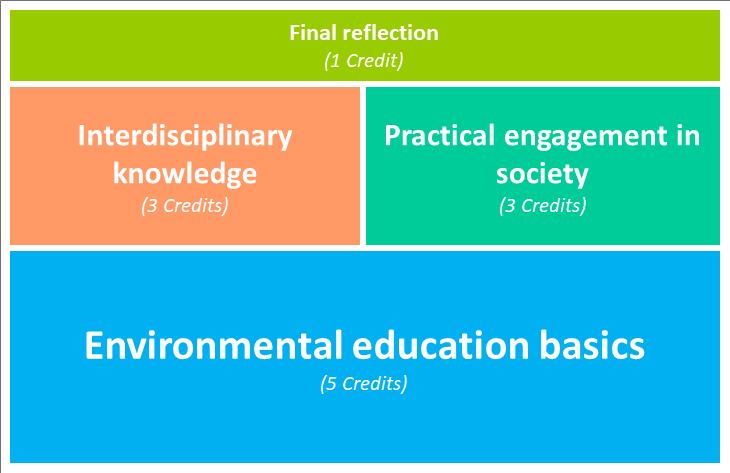 Creditable courses for the winter semester 2022/23
The program of events that can be credited for the certificate is wide-ranging. From pedagogy and didactics, but also from biology, geography, law and courses of the student representation can be chosen according to their own interest from a variety of offers.

The current event overview for the winter semester 2022/23 is available for Download.