Projektkoordination Globale Systeme und interkulturelle Kompetenz (GSiK)
Wissenschaftliche Mitarbeiterin
Projekt Globale Systeme und interkulturelle Komptenz (GSiK)
Julius-Maximilians-Universität
Oswald-Külpe-Weg 86
Deutschland
Building:
Hubland Nord, Geb.86
Sprechzeiten nach Vereinbarung.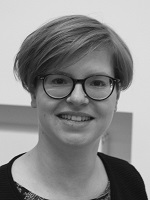 Studium der Pädagogik, Political and Social Studies und Mathematik an der Julius-Maximilians-Universität Würzburg
Bachelor of Arts seit 2015, Thema der Bachelorarbeit: "Der homo arte emendatus et correctus als Realfiktion. Über die technische Verbesserung des Menschen in einer unternehmerischen Gesellschaft."
01/2012-01/2017 Studentische bzw. wissenschaftliche Hilfskraft am Lehrstuhl für Systematische Bildungswissenschaft
Seit 01/2017 Wissenschaftliche Mitarbeiterin und Koordinatorin im interdisziplinären Projekt "Globale Systeme und interkulturelle Kompetenz"
Master of Arts seit 2018, Thema der Masterarbeit: "Der Streit um Wahrheit. Betrachtungen über ein strittiges Leitmotiv, den Versuch, an ihm festzuhalten und die Netzgesellschaft."