Shalini Singhs teaching experience
Teaching and research in Würzburg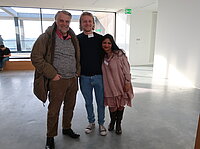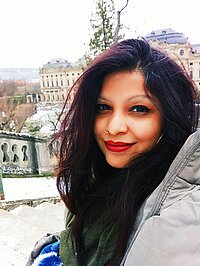 Teaching and research in Würzburg was a unique experience for me in many ways.
Apart from the winter school that I have been engaged with for the last five years, I offered a weekly course, two intensive courses, public lectures and workshops in the winter semester 2018-19. The most vibrant and versatile network of adult education and lifelong learning is centred here. The entire team and associated network is really committed to make the field more interdisciplinary and professional, keeping in view the interests of not only this generation but also of future generations. There are good opportunities to publish papers, develop your network and offer innovative courses. Furthermore, you can collaborate with international partners to realise things that seem difficult to achieve.
The focus on internationalisation and cooperation for long-term benefits is evident in all activities of the department. From rooms that are suitable for pregnant women to field visits that stir you up for deep reflections, you can see the detailed planning and organisation for all activities. The effectiveness and efficiency of the department is unmatched in the whole field. The students as well as colleagues are eager to learn and develop new things, always welcome new ideas and are keen to do things in alternative ways using the most innovative approaches. The environment and colleagues here inspired me to prepare myself for taking up new challenges and broaden my horizon. Interaction with students and colleagues from different nationalities and cultures helped me to develop new perspectives. Apart from formal engagements, the informal socialisation at dinners, joint baking sessions and small social events almost every week were overwhelming for me as it gave me an opportunity to develop a strong network, and understand the field beyond the formal setting as well. The never ending quest of the entire team to take up new challenges, to build stronger networks across the globe, and to strive for excellence impresses me so much that it has been my fifth year in Würzburg and I have already started to look forward to being here again.
The professional network developed by the department over LinkedIn, the resources available for those who want to do comparative research in the field and the facilitation for links provided by the department for all kinds of collaboration provides robust facilitation for researchers and teachers in the field.
I was especially impressed by the way Prof. Egetenmeyer and her team comprising of Stefanie, Monika, Lisa, Clara, Antonia, Vanessa, Rachel, Reinhard and others organise and manage the most complicated winter school, conferences, seminars and other activities.
The city of Würzburg on the Romantic Road in Germany is beautiful and charming with most buildings that are old and reconstructed, many cafés with traditional Bavarian as well as international cuisine, good transport system, many supermarkets, wonderful shopping opportunities and cosy modern apartments in the University Guest House. There are concerts, ballets, cultural activities, fests and many activities every week that certainly add to a conducive environment and provide opportunities to learn, relax and recreate.
If you are working with adult education, continuing education or lifelong learning and have been striving for excellent opportunities in the field, meet the most effective people who deliver quality results on time and offer endless opportunities to learn and grow in the field. This university and the team here is a must to engage with... otherwise there is a lot that you would certainly miss!